MIG WELDING | TIG WELDING | STICK WELDING
Welding Services
In-house and mobile welding services.
MIG, TIG, and Stick Welding Services
Anlin Welding offers mobile and shop welding services. We are CWB certified in W47.1, W47.2, and W186.
Utilizing both shops we can provide welding for:
mild steel,

aluminum,
stainless steel,
and exotic metals such as:

Monel,
Inconel,
Duplex,
Super Duplex
and more
Please request a quote on your project. Whether it is a large tender or something to fix or help with a project you have at home.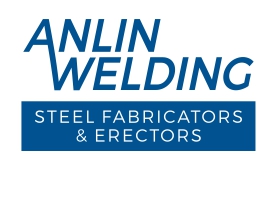 Welding Services
MIG Welding | TIG Welding | Stick Welding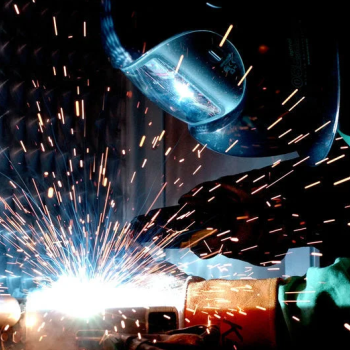 METAL INERT GAS (MIG) WELDING
MIG Welding, (also known as Gas Metal Arc Welding (GMAW)
MIG welding uses an arc of electricity to create a short circuit between a continuously fed anode (+ the wire-fed welding gun) and a cathode ( – the metal being welded). The heat produced by the short circuit, along with a non-reactive (inert) gas locally melts the metal and allows them to mix together. Once the heat is removed, the metal begins to cool and solidify and forms a new piece of fused metal.
MIG welding is used to weld several different types of metals:
carbon steel
stainless steel
aluminum
magnesium
copper
nickel
silicon bronze
and other alloys.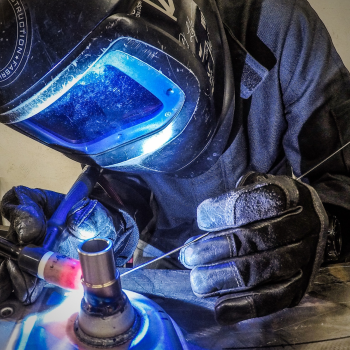 GAS Tungsten Arc (TIG) WELDING
When appearance counts, TIG Welding creates clean welds. With TIG welding, a tungsten electrode heats the metal you are welding. Gas (most commonly Argon) protects the weld puddle from airborne contaminants.
TIG welding is most commonly used to weld thin sections of alloy steel, stainless steel, and nonferrous metals. The process offers greater control, allowing for strong, high-quality welds. TIG is comparatively more complex and difficult to master than other processes and is significantly slower.
TIG welding produces clean, precise welds on any metal. Including:
steel
stainless steel
chromoly
aluminum
nickel alloys
magnesium
copper
brass
bronze
even gold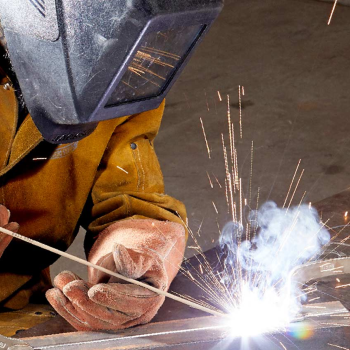 Stick/Shielded Metal Arc Welding (SMAW)
The Stick Welding process uses an electric current flowing from a gap between the metal and the arc-welding electrode. Stick welding is effective for welding most alloys or joints and can be used indoors and outdoors or in drafty areas. It's also the most economical method and provides the ability to create a good bond on rusty or dirty metals.
However, stick welding is limited to metals no thinner than 18 gauge. It also requires frequent rod/stick changing. Welding this way also emits significant spatter and requires that finished welds be cleaned. It's used for welding thicker metals of 1/16 inch or greater.
Stick welding can be used to weld:
steel
iron
aluminum
copper
nickel
Mobile Welding Services
Aside from the welding services provided at our 2 steel fabrication plants Anlin Welding also offers Mobile Welding services.
Featuring both truck and trailer-mounted welding rigs.
If you require welding services off-site, please feel free to contact Anlin Welding for our mobile welding services.
DESIGN. BID. BUILD
PROJECT INQUIRIES
Most of the work performed at Anlin Welding is by the tender process. However, we also do provide information and quotations on structural projects that are not open to tender.
If you have a need for structural steel, steel erection, or large steel fabrication, we would be more than happy to provide a quotation.
SPECIALTY DIVISION
SMALLER PROJECTS OR MASS PRODUCTION
Anlin Welding has a renowned Specialty Project Division. With over 10,000 square feet of fabrication space, home to a Water Jet Cutter, Plasma Cutter, and Laser Cutter. We have the ability, experience, and desire to help you with any custom metal fabrication project.
Our creative staff have access to the best of tools and have years of experience. Challenge our team with your one-off project or mass-production of a product.
Regina Welding & Steel Fabricators
Anlin Welding has years of expertise in fabricating and erecting structural steel for commercial and industrial buildings.
We also have worked with major oil companies to construct Compressor Stations and the development of access and egress systems in new and existing plants.
All fieldwork and installation are carried out by our qualified teams.
Welding & Fabrication Services
Tanks
Joists
Anchor Bolts
Steel Detailing
Steel Erection
General Repairs
Stainless Welding
Aluminum Welding
Certified Rebar Welding
Shop & Portable Welding
Custom Bar Stock Rolling
Custom Shearing & Forming
Structural and Steel Fabricating
Bar Stock, Angle & Channel Rolling
Contact Us
Anlin Welding
Steel Fabrication Division
195 Hodsman Road
Regina, Saskatchewan
Canada S4N 5W5
Specialties Division
175 Hodsman Road
Regina, Saskatchewan
Canada S4N 5W5
Telephone
306-721-6566
Fax
306-721-1312